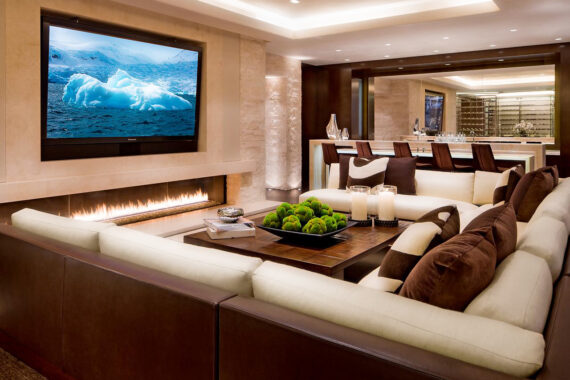 Now you can consolidate all of your music and video equipment into a closet and enjoy music and movies in every room of your home. Distributed media system allows for a clean finished look in every room with nothing more, than the TV or projection screen and in-ceiling or in-wall speakers. Gone are the days of having all your cable boxes, DVD players, Apple TV's and music equipment living on a table under the TV. All equipment in a distributed media system is located in a custom engineered AV rack typically in a basement or closet. When you want a clean, uncluttered beautiful look for each room in your home, audio video distribution is the answer.
The benefit of this setup is that your audio and video sources can then be shared in each room, meaning you aren't required to have a cable box for every TV in the house or a streaming music player for every room with speakers. Our custom designed AV Racks hold all AV and network gear for the entire house, making troubleshooting, and routine maintenance easy and cost effective.
If you have an Apple TV or music streaming service, you don't have to worry about setting these up in every room in the house. Instead, the technology we use can be stored in one central location. Don't limit the media you love to just one space when you can enjoy it from anywhere in the house.
Whether you have a 3 room house or a 20 room estate, our distributed media systems will meet all of your home automation needs.