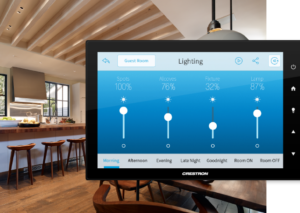 We believe lighting control should extend far beyond just a manual on/off switch. What if, with just the tap of a screen on your phone, you could dim every light in your dining room to the perfect level for dinner with the family? Or, as you pull into your driveway at night, what if pathway and hallway lights automatically turned on, welcoming you home? With a smart lighting system, that's all possible.
We partner with companies like Lutron and Meljac to bring you world class design with easy to use on-wall and touch screen control. When combined with your Automation system, it is simple to create a scene for every occasion.
Our controlled lighting systems are tailored specifically to the client. Each individual light, lamp, chandelier or under-cabinet accent can be set with a simple slider on your phone or touch screen device. Controlled lighting can also be managed remotely, allowing you to monitor which lights are on and off when you're away, creating an energy efficient home.
We work hand in hand with your electrician, lighting and interior designers, as well as your architect to make sure the end result is clean, elegant and simple to manage.